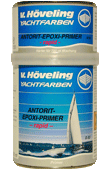 Antorit-Epoxi-Primer D 53 - rapid
See systems 2, 4 and 8
Antorit-Epoxy-Primer –rapid- is a filled primary coat containing solvent, with an epoxy resin base. Antorit-Epoxy-Primer –rapid- is a universally employable primary coat for surfaces underwater and above water, as well as interior and exterior surfaces of wood, steel, aluminium or polyester on boats and yachts. On polyester-coated wooden boats, the primer is used as a blocking base. The primer is impermeable to diffusion, protects against corrosion and prevents osmosis. It cures rapidly and provides an excellent adhesion to the undercoat. Antorit-Epoxy-primer –rapid- is compatible and repaintable with all antifouling substances, with DD-Hartlack D 81 –farbig- (coloured) as well as with other two-component products. To guarantee a better and perfect adhesion of thin-layered antifouling paints in the following years, a universal undercoating as sealer on the two-component Epoxi-Primer –rapid- D 53 is recommended.
Data sheet
DIN safety data sheet
DIN safety data sheet - Accelerator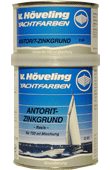 Antorit-Zinkgrund D 50
See systems 1, 2, 3 and 4
Antorit Zinc-Primer is a two-component product with excellent features. It is a very good protection against corrosion for new-buildings and repair of yachts and other boats of steel. Using Antorit Zinc-Primer is a true alternative solution to grit-blasting. Due to the excellent penetration of the substrate it can be used on mechanically derusted steel as far as the cleaning-standard of St2 is reached. The still remaining rust is penetrated and capsulated. Therefore an excellent bonding between substrate and Antorit-Zinc-Primer is built up. Moreover nearly every one or two component coating could be applied without additional surface preparation like grinding or sanding after month.
Data sheet
DIN safety data sheet
DIN safety data sheet - Accelerator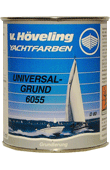 Universalgrund 6055 D 80
See systems 1 and 2
Universalgrund 6055 is a primer against corrosion based on chlorinated rubber. It is used under water as well as above the water line of yachts and boats of steel, wood and aluminium. It can be overcoated with every type of one component paint and antifouling substance. When overcoating an unknown substrate, one coat of Universalgrund 6055 serves as a barrier coat. Moreover, it can be used as a sealer to old leached and worn antifouling coats.